Get Cartooned 💝Note: Orders are closed for christmas. If you order now, it will be ready just before valentine's day!
Food prints perfect for a gallery wall!
Some of kate's past design work
Looking for a cute design?
Kate has worked with a variety of local businesses & clients to create custom designs for shirts, mugs, advent calendars, wedding invitations, aprons, pjs, crewnecks and more! Have an idea? Pitch it to Kate via email to katefudge@hotmail.com or use the client project form here:
Most recent review
"I ordered a custom cartoon of myself, my boyfriend and our dog for a Christmas gift this year! Kate did an excellent job of getting every detail right for all 3 of us and I couldn't be more pleased with my order😁 My cartoon was very true to the description I gave her, she shipped it to NS within a week of ordering and she even included a little sticker! It was such a pleasure to order from her and support local this year and I would highly recommend her art for anyone looking for a cute, customized gift for anyone in your fam! You won't be disappointed🥰"
-Brittany from Nova Scotia, Canada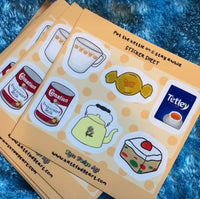 WHOLESALE
Are you a business owner looking for prints or cards to add to your shop?
I have a variety of Newfoundland inspired prints, cards and sticker sheets available to purchase in bulk!
Email me @ katefudge@hotmail.com for my wholesale ordering info and form.